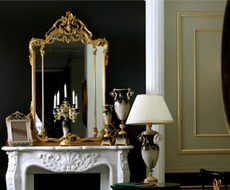 History Caroline
Artigianato Ceramico today known throughout the nationwide , and international under the brand CAROLINE works in the field of wedding favors, gift and lighting.
For more than 30 years is concerned of decoration of porcelain according to the taste of customers specially of most refined. Be different and offer added services are always been purposes that the company has set, to get results always keep pace with the times.
Thank to the numerous manifestation trade fairs that participates every year, the customers can always find a lot of ideas for the house, for the gift and lighting , offering everytime new and exclusive decorations.
Croline is present on the most importants sector's magazines , Sposabella, Bomboniera Italiana, Voga and this has allowed to become in the last years a Griffe increasingly sought by customers .